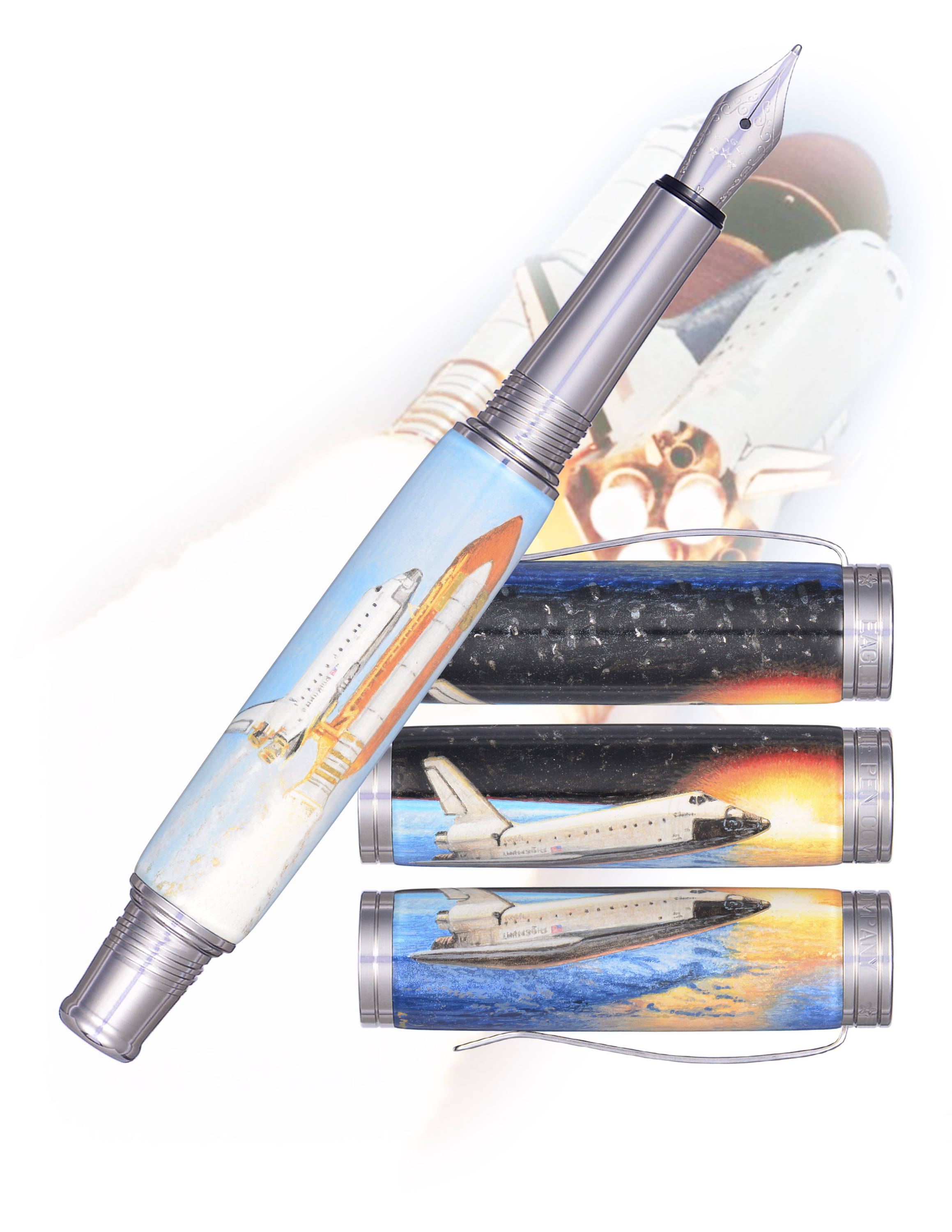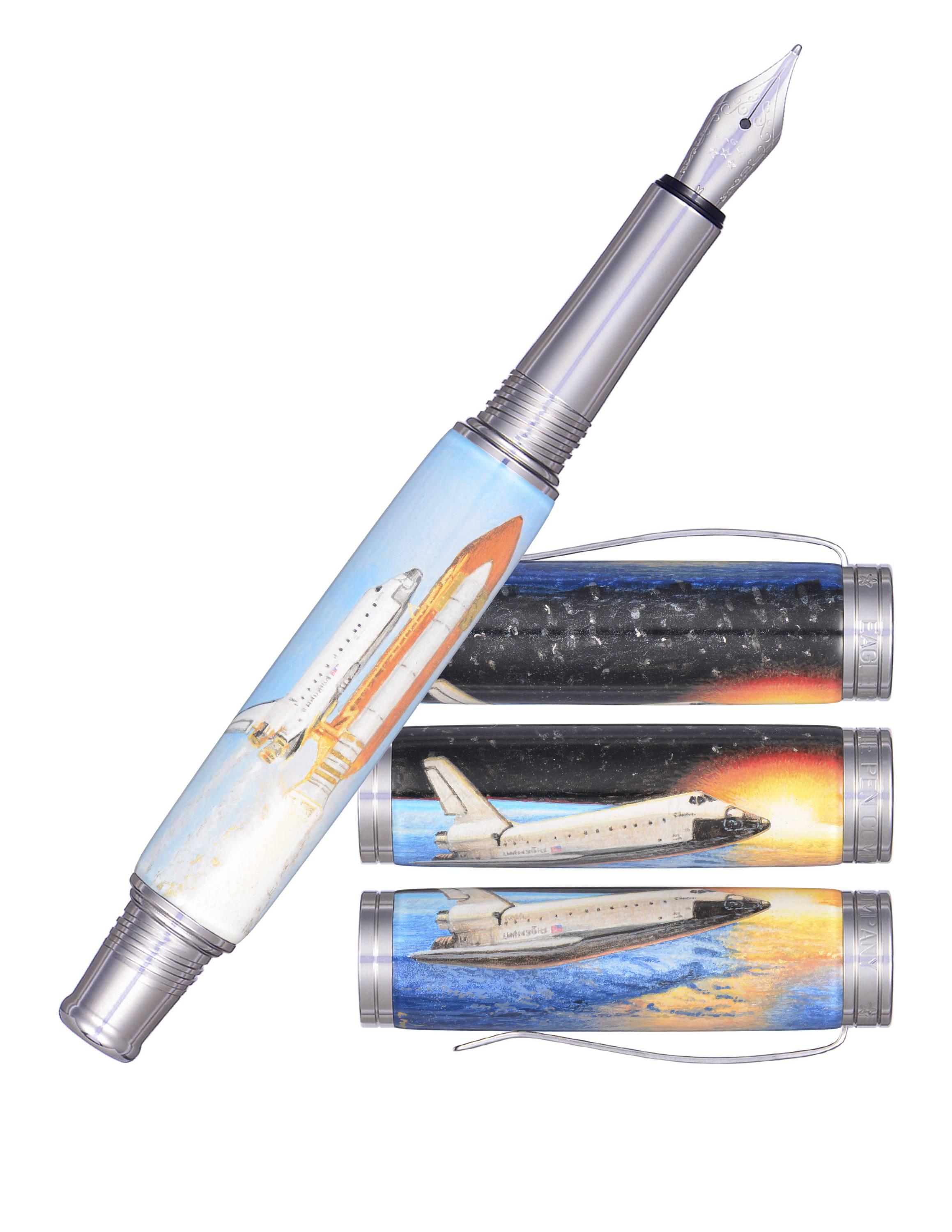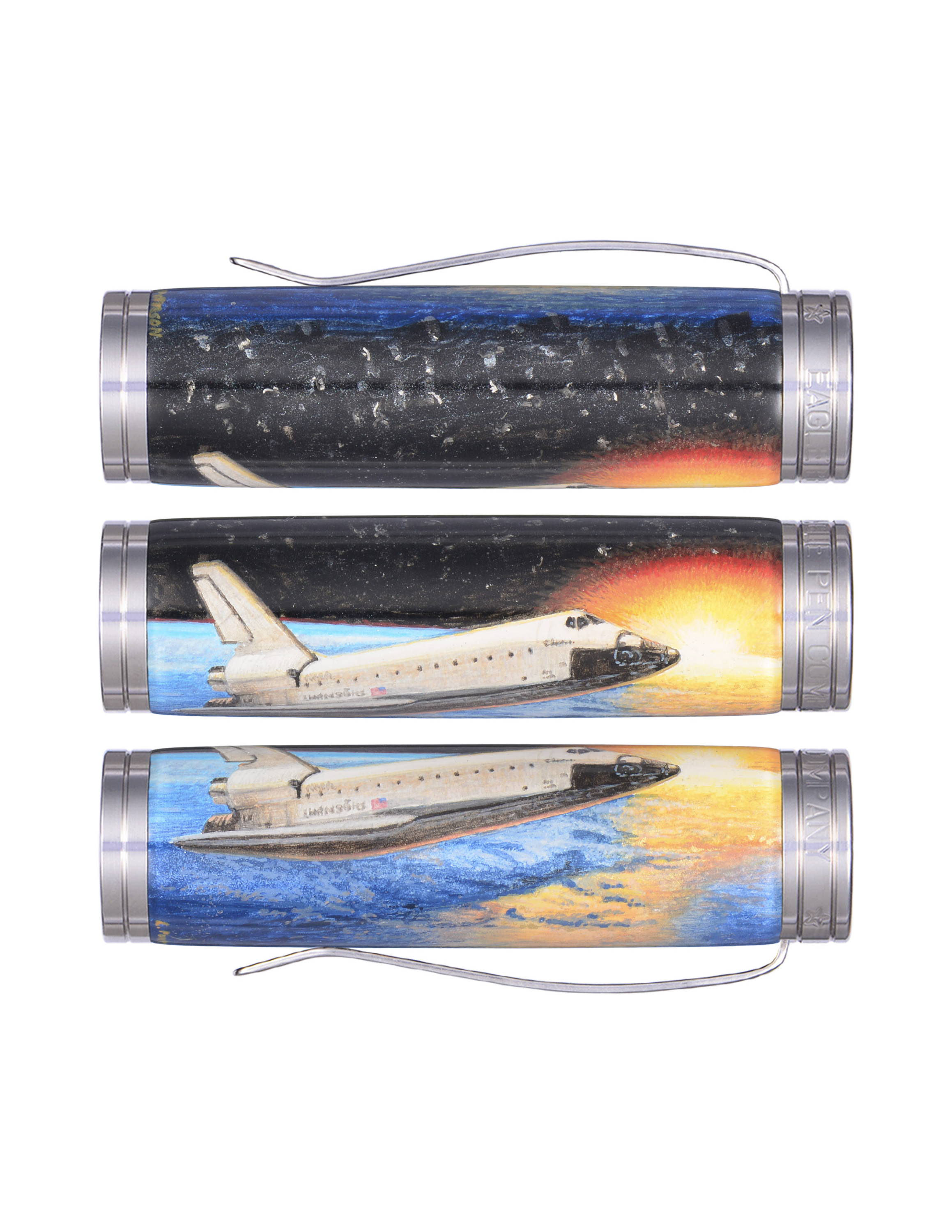 1 of 1 pen, original artwork by Lynn Peterson.
This 'Space Shuttle Columbia' edition was designed by Lynn and aims to honor the fallen Columbia crew's memory. Based on her original sketches and inspirations, Eagle sourced two unique materials for this project; Columbia thermal foil and meteorite.
The thermal foil is part of Shuttle Columbias TCS (thermal control systems) and kept astronauts safe from the intense heat of atmospheric re-entry. This specific foil was removed during a routine inspection in 1997. Pieces of this rare foil were cut into fine shapes and used by Lynn to incorporate into the painting. Look at the body of the pen, you will see glimmering gold decoration on the solid rocket booster; that is the foil carefully incorporated in the painting.
Crushed meteorite was cleverly utilized in the cap of the pen, brushed into the black of the night sky. these meteorite flecks against the black background of space sparkle in the light, twinkling like stars. This meteorite comes from Campo del Cielo, one of the largest and most famous meteorites to ever impact the Earth. You can read more about it here.
24k gold paint was used in the sunrise on the cap to accentuate the 'sunburst' effect and reflection on the ocean.
The entire pen is sealed with a glassy lacquer, protecting the artwork, Columbia thermal foil, and meteorite. for generations.
Lynn Peterson, a world-renowned and accomplished miniature artist, creates special gouache and oil pen lines for Eagle. Each pen is truly unique and requires, on average, 8 to 12 hours to complete. Lynn is truly unique in her abilities to paint in such detail, but also to paint directly on the round surface of the pen body. She honed these abilities as a young artist, painting on the shells of quail and duck eggs.

Specifications
Weight - 44 grams
Length closed - 5"
Length with cap posted - 6"
Nib - steel, medium Bock

Cartridge converter included
Construction
Solid, surgical-grade stainless steel.
Columbia thermal foil, meteorite, and 24k gold paint incorporated into a full-painted pen. Sealed in clear lacquer.
Made in America.

Writing System
Artist Original pens come standard as a fountain pen with a complimentary rollerball writing kit.
Ink for both fountain pen and rollerball are included.
Fountain pen nib upgrades and exchanges are available. Contact us for details.

Every pen ships quickly via insured FedEx delivery, compliments of Eagle Pen Company.
If you require overnight delivery or have specific delivery instructions please contact us.
Unused pens purchased on the Eagle website or in person from an Eagle representative may be returned within 14 days of purchase for an exchange. Refunds are available, less a $100 restocking fee. Not applicable to custom or engraved pens.
Eagle Pen Company creations are of the upmost quality and workmanship. Every pen is hand-tested for quality and compliance before shipping. Because of this trust in our product, Eagle Pen Company offers a warranty on manufacturing for the life of the pen. If a component fails due to manufacturing error it will be fixed or replaced as quickly as possible by Eagle Pen Company.
If a pen has been damaged or is not functioning correctly, please send it to us for an immediate assessment and review of next steps for refurbishment and repair.
An Excerpt from The Vault, recounting the important history of Shuttle Columbia:
Spanning 22 years of service and 27 successful missions, Space Shuttle Columbia (OV-102) became a routinely-orbiting vehicle for NASA from 1981-2002. Space Shuttle Columbia was the world's first ever reusable spacecraft, launching into orbit atop a rocket, then safely gliding back to land on Earth. A reusable shuttle, coupled with a new rocket design, meant for a much less expensive mission-to-mission cost, prompting several launches per year. Columbia was responsible for building the International Space Station, launching and servicing the Hubble Telescope, deploying several satellites, and carrying out thousands of hours of experiments. The foil pictured above is swatch of thermal blanket from Columbia removed on September 15, 1997 during a routine inspection of the TCS (thermal control systems). These blankets acted as insulation, keeping the astronauts safe from the extreme heat of atmospheric reentry. Tragically, on January 16, 2003 during reentry, damage to the thermal protection caused the left wing to crumble, leading to total disintegration of the Shuttle and death of the seven astronauts on board.

More Artist Original Offerings