The spirit of watchmaking captured within a pen.
The Chronos Collection is an homage to the craft of fine watchmaking; celebrating accomplished brands, artists, and engineers from around the world. The Carbon Edition offers the look and feel of the Platinum edition without the Swiss dial premium.
Watchmaking is an incredibly precise and trying pursuit. Crafting a Chronos pen is no different. Our jewelers work within incredibly tight tolerances, gently heating, bending, and placing individual dials and components by hand. The underlying carbon fiber bodies of the Platinum Edition bring a fantastic depth and floating effect to the watch components and pen as a whole. In low light environments the body appears to be a glossy black, but introduce a bit of sunlight and you will be rewarded with a gorgeous, glistening display. Pens are finished in a glassy lacquer, sealing in and protecting the dials and components for generations.
Specifications
Rollerball:
Weight - 55 grams
Length closed - 5"

Length with cap posted - 6"

Ballpoint:
Weight - 52 grams
Length - 4.8"
Construction
Solid, surgical-grade stainless steel.
Carbon fiber body decorated with watch dials and components. Sealed in clear lacquer.
Made in America.
Writing System
Chronos Platinum pens come standard as a rollerball or ballpoint. Refills are available through Eagle.
Fountain pen system upgrades are available. Contact us for details.
Every pen ships quickly via insured FedEx delivery, compliments of Eagle Pen Company.
If you require overnight delivery or have specific delivery instructions please contact us.
Unused pens purchased on the Eagle website or in person from an Eagle representative may be returned within 14 days of purchase for an exchange. Refunds are available, less a $100 restocking fee. Not applicable to custom or engraved pens.
Eagle Pen Company creations are of the upmost quality and workmanship. Every pen is hand-tested for quality and compliance before shipping. Because of this trust in our product, Eagle Pen Company offers a warranty on manufacturing for the life of the pen. If a component fails due to manufacturing error it will be fixed or replaced as quickly as possible by Eagle Pen Company.
If a pen has been damaged or is not functioning correctly, please send it to us for an immediate assessment and review of next steps for refurbishment and repair.
An American Made Business
Beautifully Packaged & Ready to Gift
Configurable as a Fountain Pen or Rollerball
Quick, Free, & Insured Shipping
Beautifully Packaged & Ready to Gift

The creation cycle of a ballpoint Chronos pen
Beautiful packaging & presentation.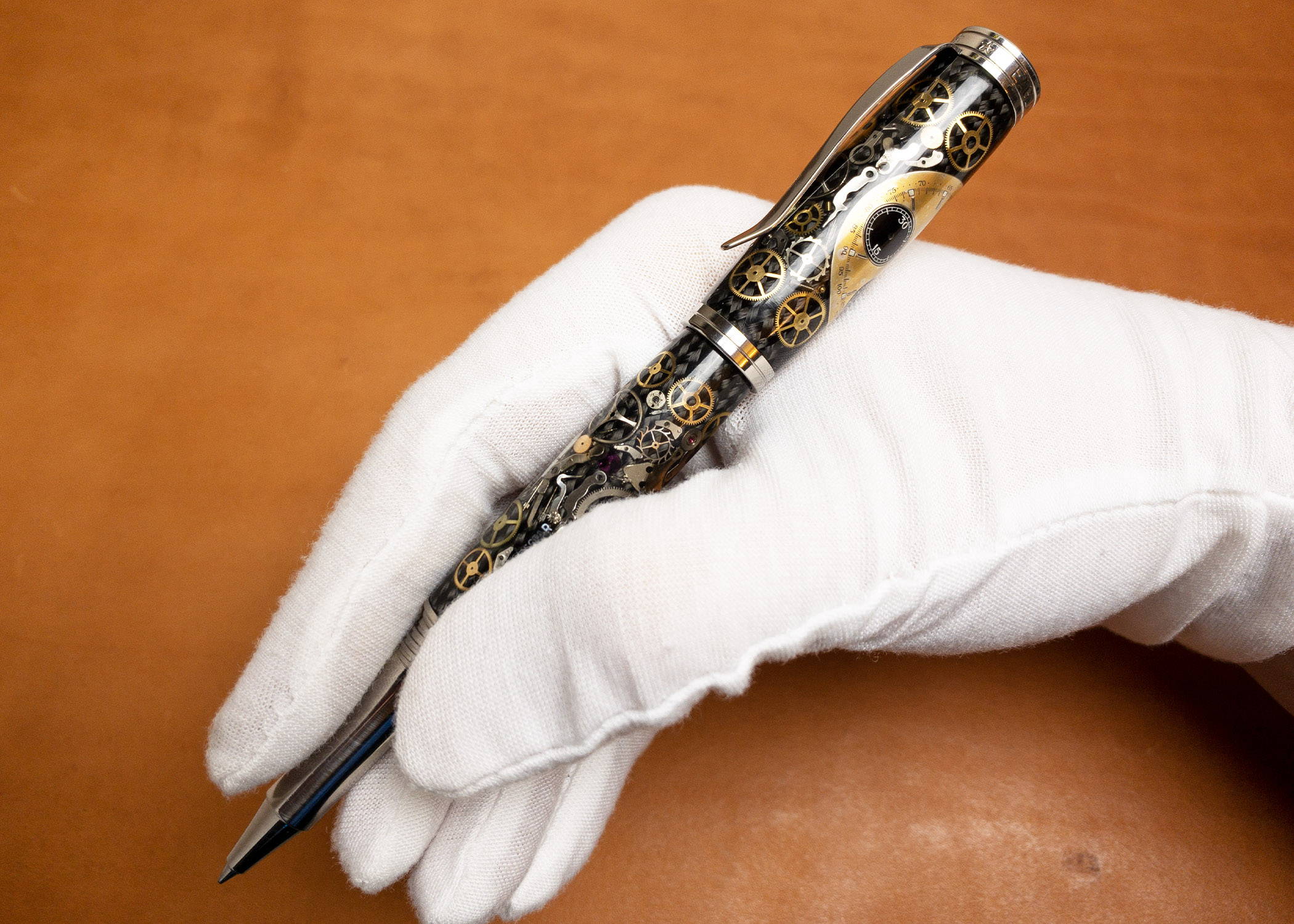 Rollerball in hand, weighted for balance & comfort.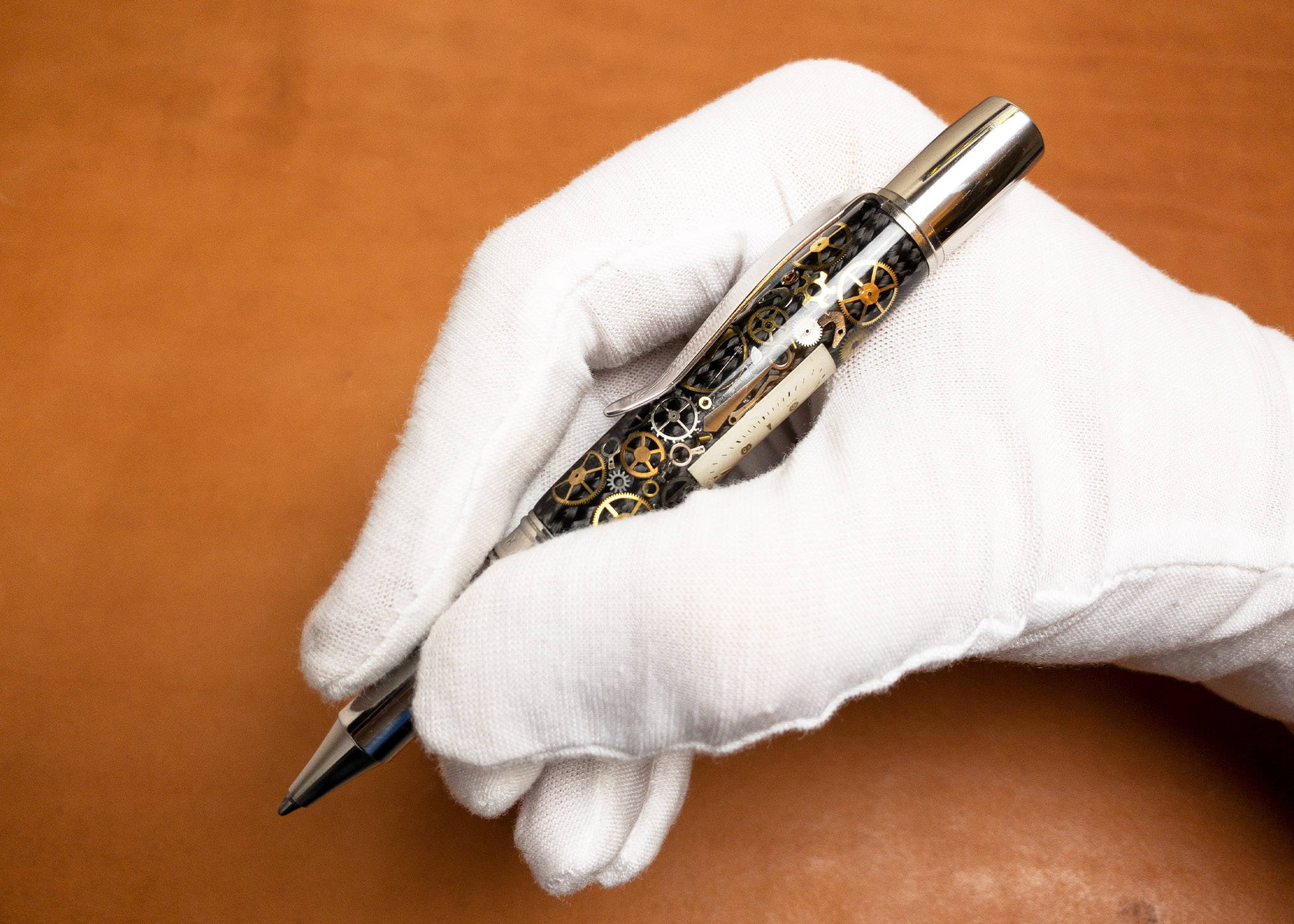 Ballpoint in hand, twist top to operate, perfectly pocket-sized.
Looking for a specific dial? Want to turn a broken watch into a Chronos pen? Contact us for assistance.